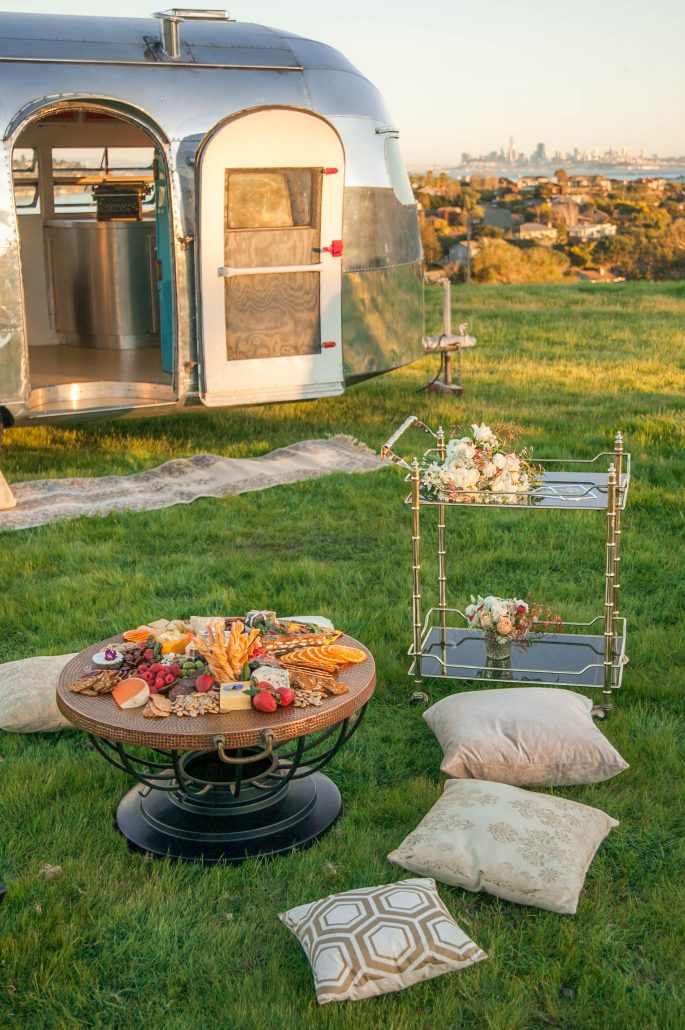 When our Handsome Curtis Clipper gets an offer to be one of the main actors on a photoshoot, we, as parents, couldn't be more proud!
Our good friend Chelsea Bowman from The Seminary at Strawberry reached out to us for a last minute addition for a photo shoot they had scheduled on the property. The idea was to transform Strawberry Hill into a bridal photo shoot to showcase what the property can become. Among all of our vehicles, the Curtis Clipper Lounge caught their eye, and it fit perfectly into the set. With the blue sky reflecting into the shiny aluminium body, its streamline design adds a lovely vintage touch to this romantic set. The combination of the beautiful views of the City, Clane Gessel's photographic eye and our lovely couples and vendors made the shoot spectacular. Our vintage trailers are a perfect addition to a rustic outdoor wedding, and as these photos show, it can be a standalone attraction, with or without a photo booth. It works great with some furniture accents to tie together the glamping or rustic vibe you are after.
It was a real team effort and a pleasure to work with such a fantastic crew, so we'd like to give credit where credit is due.
Venue : The Seminary at Strawberry // @theseminaryatstrawberry
Planning and Designing: Chelsea Bowman // @ChelseaEventsFloralDesignphy
Photography : Clane Gessel Photography // @ClaneGesselPhotography
Catering : All Seasons Catering // @allseasonscatering
Floral Design : A. Hana design // @asakohan
Bride's accessories : Be Impressed by Nature // @IMPRESSEDbynature
Make Up : Kat Louis // @katlouismakeup
Rentals: One True Love Vintage Rentals // @onetruelovevintagerentals
Gown: Noy Design // @noydesign 
Models: @lesliewong15 + @mikeguido;  @beckyjriley + @lasalete.sousa